Me & JJ both wanted to visit elephants during our trip, so we wanted to make sure we did so in a completely ethical way. Many places in Thailand still offer elephant riding, something which is absolutely not okay. I'll admit, I didn't even know it was wrong until about 5 years ago, when I saw an article on Facebook. Like I'm sure a lot of people did and often still do, I naively thought, 'well they're huge animals, they must have super strong backs and mustn't mind people riding them'. Completely wrong. Riding elephants hurts them, and they're abused into submission so that they'll allow people to ride them. When they're not being ridden for human entertainment, they're chained up. There are also a lot of places in Thailand which claim to be 'sanctuaries', stating 'no riding', however, mistreatment of these beautiful animals still goes on in other forms, such as tying them up at night.
So, after much research, we found Elephant Nature Park in Chiang Mai- it was the most highly recommended, ethical place to go. There were loads of different packages to choose from on their website, and we went for the Care for Elephants package. A full day experience, where you get to spend time up close with the elephants, helping those who work there with feeding and more.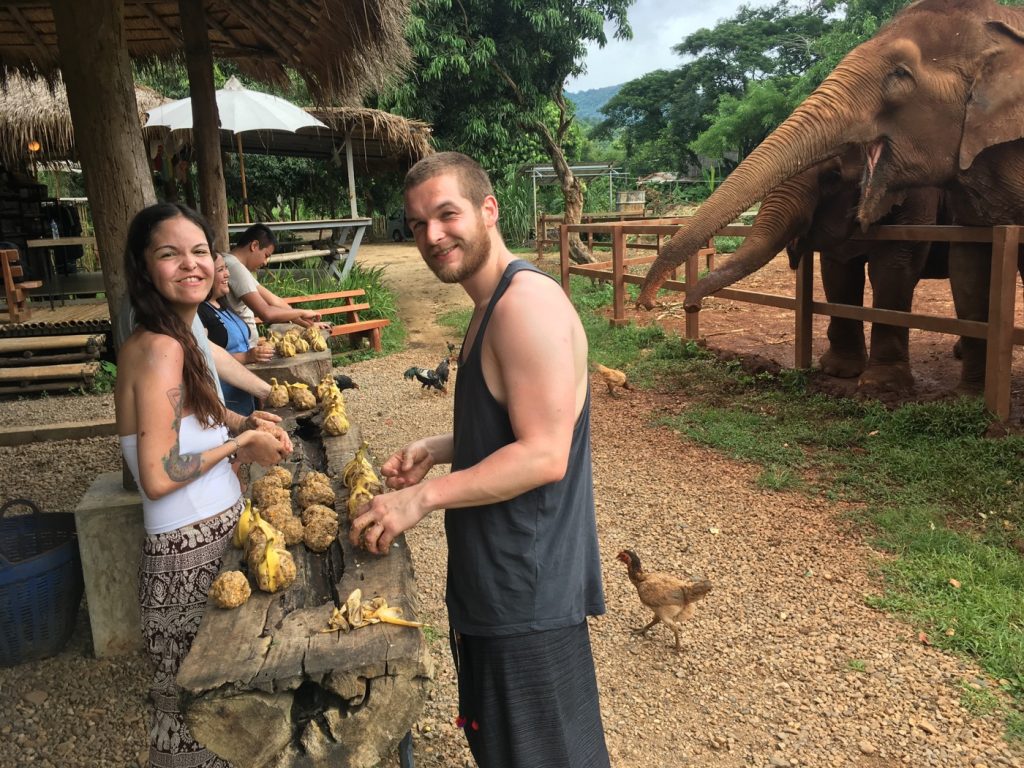 The day was absolutely incredible. Even if the early start did mean having to set an alarm for 6.30am on our holiday!
We arrived at the office and our tour guide took us to the bus, along with the 3 other people in our group. I liked that it was a small group, as it felt more intimate, and I imagine it's nicer for the elephants too.
Our tour guide, Somboon, made the experience perfect for us. He spoke extremely impressive fluent English, answering all the questions the group (mainly me) had about the elephants & the park itself. We could tell he really cared about the elephants, and his love for them showed through the way he spoke about them. His vast amount of knowledge on elephants left me feeling like I'd learnt a huge amount about elephants by the end of the day!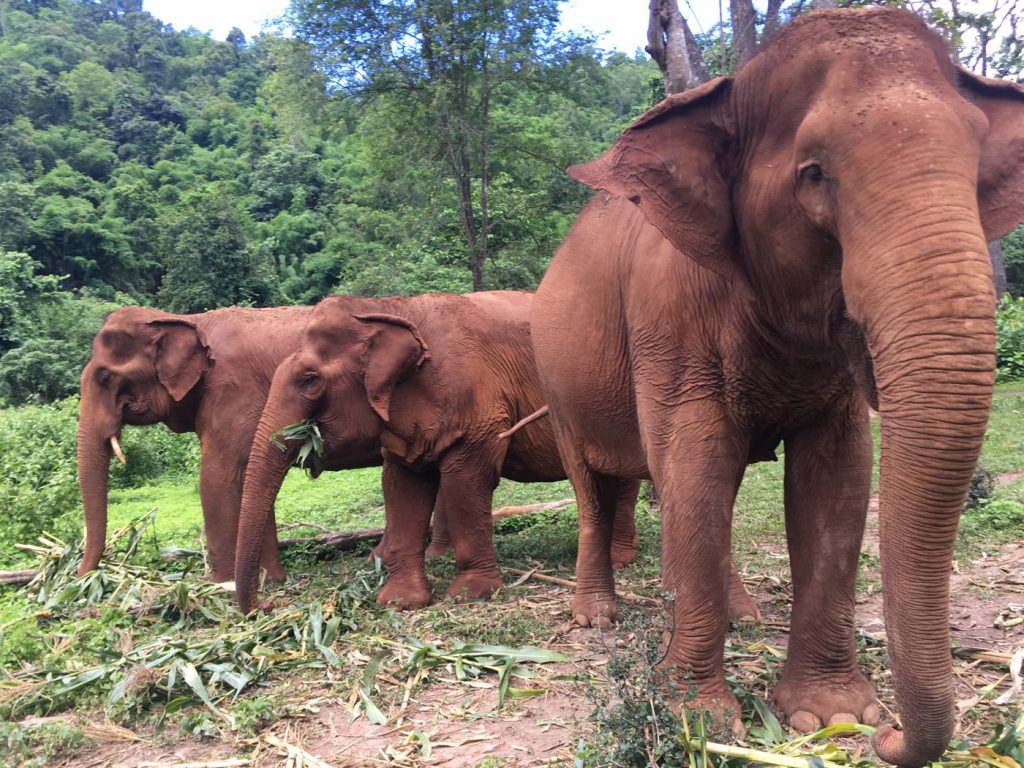 He was also acting as a photographer, taking the phones of everyone in the group so the experience could be captured for all of us. I ended up with over 200 photos on my phone!
We got a talk from Somboon about how the park was founded, the stories he told bringing myself & another member of our group to tears.
We were introduced to the 3 elephants we'd be spending the day with, then prepared their food. This involved chopping and peeling watermelons. I find chopping really difficult, and peeling impossible, but Somboon was really helpful. He saw I was struggling, so helped me with the chopping, explaining the easiest way to do it, and JJ did my peeling.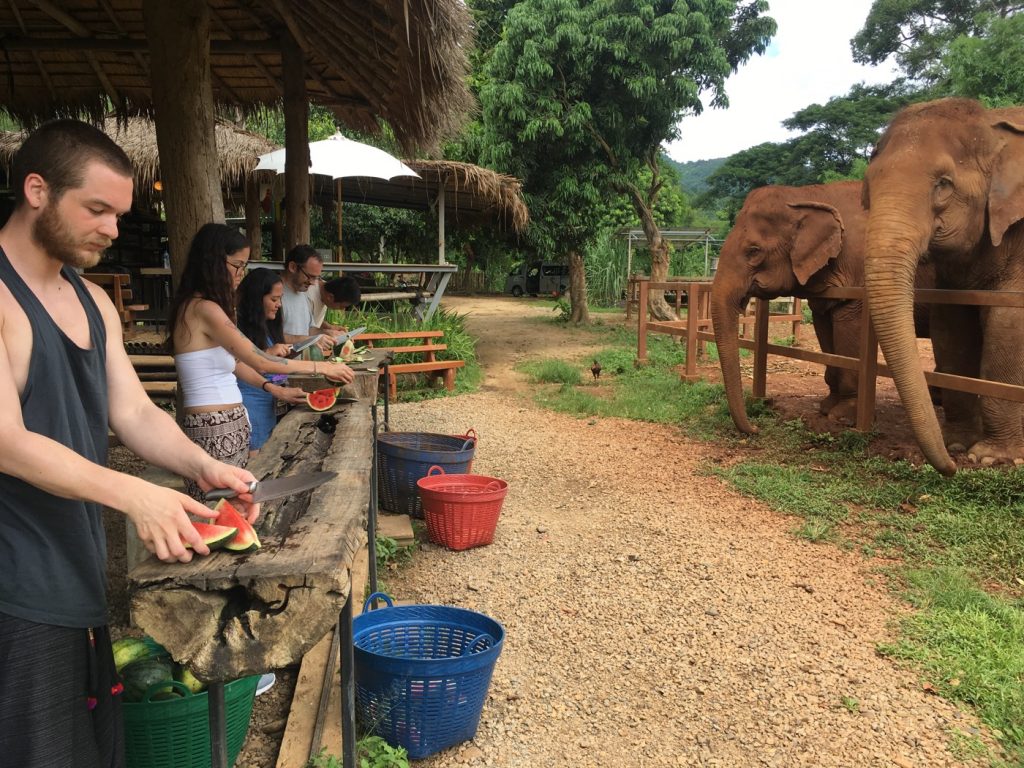 We then fed them their watermelon, which was so cute! You just place the food at the end of their trunk and they take it out of your hand. So graceful for such big animals!
We then prepared their next lot of food – banana rice balls. Our tour guide explained that the ingredients (rice, grains, salt, bananas, tamarin) helps with their digestion. He said that elephants have a lot of digestive issues, so in the wild they actually die about 20 years earlier than they do in a project like theirs, as they can't get the right sort of diet. For example, the oldest elephant we were with (she was 71 – the oldest in the park was 104!) needed the watermelons peeling as she doesn't have teeth, but in the wild, she'd have to eat them how they come, which can cause stomach issues.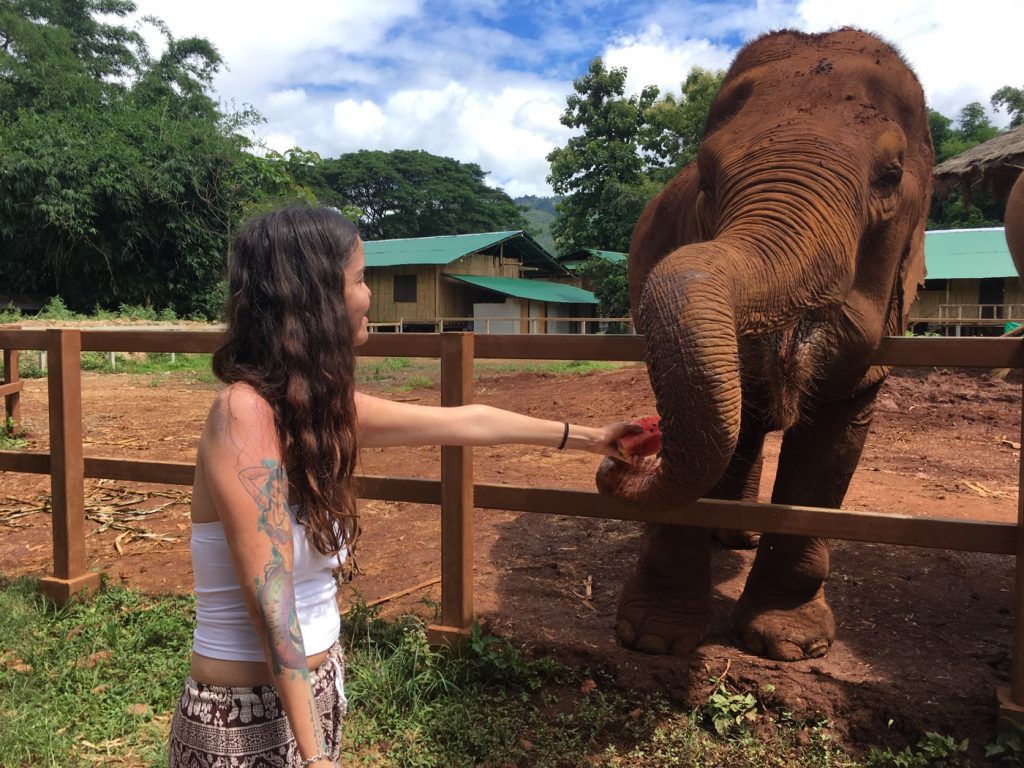 Then it was time to go for a walk through the rainforest with our new friends! I was nervous as I can't walk far even on flat, even flooring, never mind through a rainforest! We were each given a bag of little bananas, with Somboon explaining that whilst walking with the elephants, if they put their trunk out to us, we should give them a banana. My bag was soon empty – I didn't realise how much elephants loved bananas!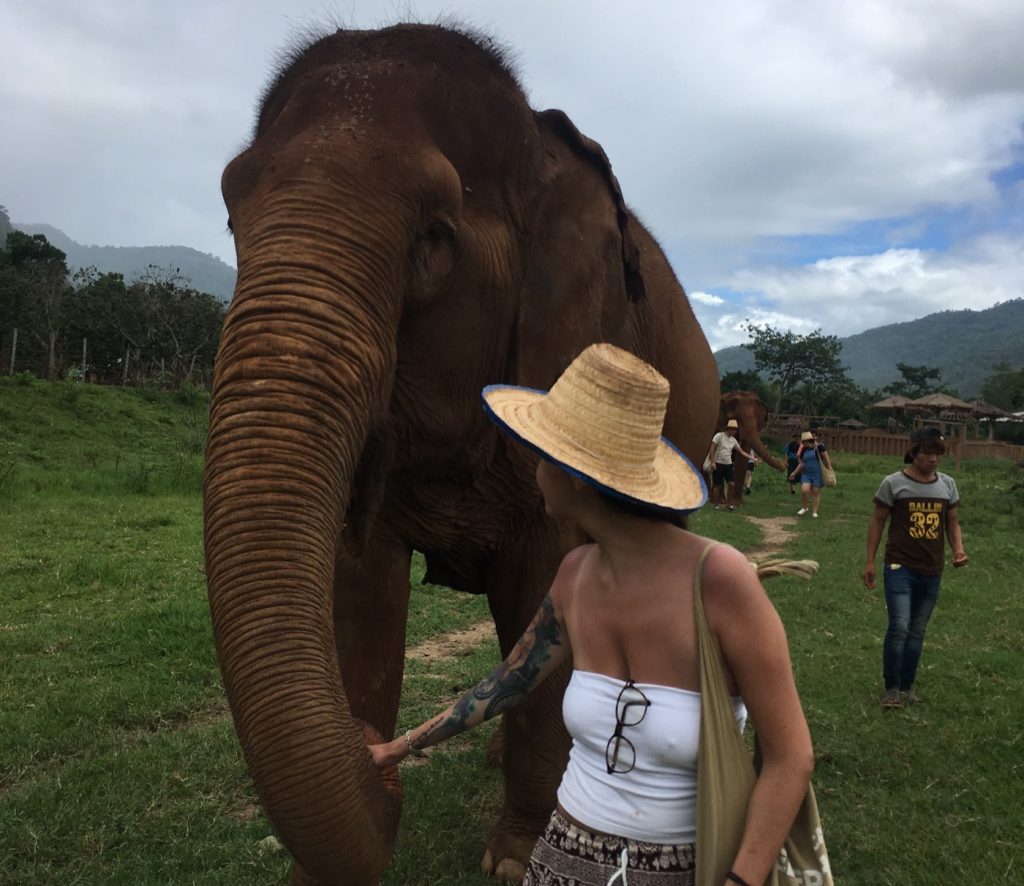 They're such beautiful, gentle creatures, I was just in awe of them. Knowing that they'd all gone through so much before their lives at the project, it was difficult to imagine what kind of people could be so cruel.
After an hour of walking through the rainforest (AN HOUR – I'VE NEVER WALKED THAT FAR IN MY LIFE!), it was time for lunch. I nearly had a heart attack on the spot when Somboon pointed out where we'd be having lunch. It was up lots of steps – something I'm not good with – over branches, across uneven ground, and I was absolutely exhausted by the time we got up there. I was in so much pain and so out of breath, I felt like I'd ran a marathon, whilst being repeatedly punched by Mike Tyson. But I eventually made it, and the view from the top made it feel so worth it. It was beautiful.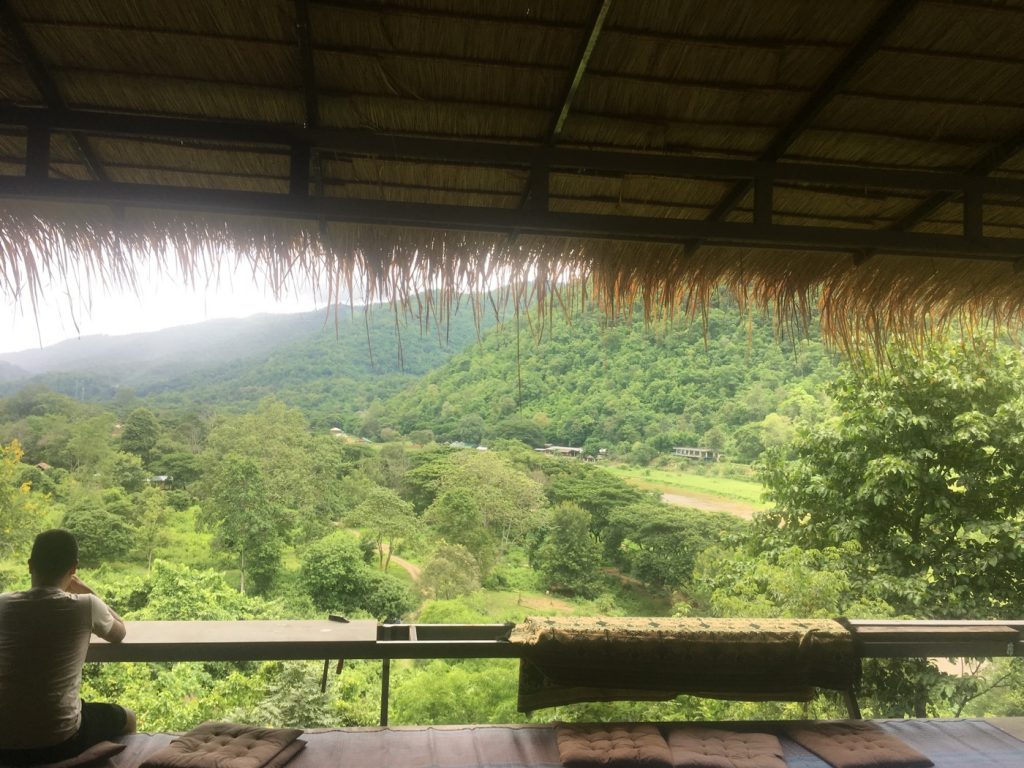 We helped ourselves to a delicious buffet style vegetarian lunch – delicious noodles, spring rolls, tofu, rice, dumplings, and some sort of potato stew which I had less than a spoonful of and nearly died from the spice burning my throat. Despite the spice in the latter dish, it was all delicious, and I was really impressed. It was great just being up there, with such incredible views of a Thai rainforest. My legs dangling, no WiFi to distract me, listening to the sound of the birds and creatures in the trees, watching the elephants way below us. I could have stayed there all day. But we still had more elephant adventures to get on with, so on we went!
The walk back down was difficult too, but I had help from JJ, and even another member of the group who let me hold onto his arm when I looked like I was about to tumble down the steps and land in a crumpled heap somewhere in the rainforest.
Next, it was time to wash the elephants in the river. I whipped my 'yah I'm a traveller' elephant trousers off and stuck some shorts on, then we made our way into the water, buckets of bananas in hand. I stupidly thought I'd get in without the shoes I'd brought along. Jesus Christ it hurt my feet. So many stones! But I managed it. I stood in the river, clinging onto JJ for dear life, and fed the bananas to the elephants. Then, when our buckets were empty, we filled them with water and chucked the water over the elephants! I couldn't do it much as it was hard enough trying to balance, never mind doing so whilst also trying to fill a bucket with water then lift it. But I did some, then it was time to get out of the water. I nearly fell over multiple times, and another member of the group let me hold onto him while JJ waded through the water to help me, as I was about to end up face first in a river most likely full of elephant poo. Luckily the water was only about knee-deep, so it wouldn't have been dangerous if I'd completely fallen in it, but I'm still glad I didn't. No one wants to be the person who smells of elephant poo.
The stories of the elephants
Once we were out, we walked some more, and got a bus to another part of the park. Here, we saw the elephants who found human interaction too difficult due to previous physical and mental trauma. Somboon explained to us how it had taken the project 10 years to rescue one of the elephants.
Making elephants work, and letting people ride them, sadly isn't illegal in Thailand. So the only way these animals can be saved is if the owner allows the project to buy the elephant. The owner of this particular elephant wouldn't budge for a decade, but then eventually, the project heard through the grapevine that the owner was selling the elephant to another person, as the elephant wasn't useful to him anymore. The project offered more money, and finally, after 10 years of trying, saved the elephant. He now lives in the project, and has a much happier life. However, he's still got lasting effects from his previous life, so isn't involved with humans like the 3 we spent the day with.
Somboon also showed us an elephant whose foot is now deformed as it was caught in a trap meant for other wildlife in the rainforest, one whose foot was blown up when he stood on landmine, and one who only had one ear as its previous owners damaged his other one so badly from putting hooks and chains on it.
There was an elephant who was 71, who had previously been locked up for 30 years and left malnourished as a punishment for attacking the owner when he was in pain the owner had put him in – this really upset me, and I cried for the second time that day.
There was another elephant who had no mother, so I asked what had happened to her. Somboon described how elephants need 2 or 3 months rest after giving birth, as they've just gone through a 2 year pregnancy, and of course, birth isn't easy. However, the previous owner of this elephant put her to work straight away, before she'd had time to rest, and to allow her wound to heal. She became very unwell, and sadly died.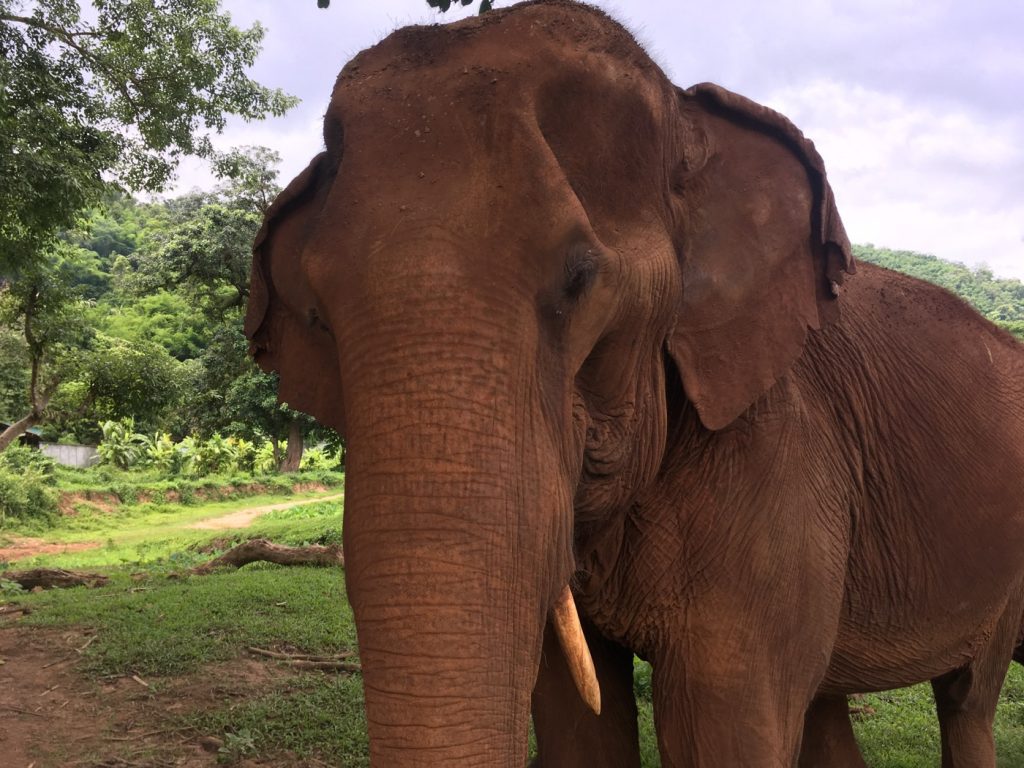 Of course, the stories told are horribly sad, but despite this, it was a lovely, happy day. Somboon often reminded us that the elephants are now happy, and seeing how well they're being treated was great. They're finally treated with the love, support & care they deserve. It's important that these stories are told, even if they are difficult to hear. People need to understand the importance of not going to places that make elephants work, so that these beautiful animals can live like these should.
If you're able to, and have the opportunity to do so, please visit this amazing project. It's an experience you won't forget!