NB: All information and prices in this post are based on a stay during September 2019. At this time, £1 was equal to 37 Thai baht.
Not so fun fact: when we visited Thailand in June, just 3 months earlier, £1 was equal to near enough 40 baht. We didn't realise the pound had dropped so drastically by September, until we'd nearly finished our week on the island! So my 'divide everything by 40' technique to work out how much things were didn't actually serve me very well, and meant I was paying more than I thought!
---
Whilst staying in Phuket, another traveller recommended we visit Koh Phi Phi Don, one of the Phi Phi islands. So after a week in Phuket, we decided to head there. A one hour bus journey and 2 hour boat ride later, we made it.
Where to stay
Panmanee Hotel
We stayed in a hostel the first night we got to the island, but we weren't too keen on it. So we decided to check in to this hotel the next night, and ended up staying there for the rest of our time on the island.
It was 814 baht per night for a double room, which we didn't think was a lot for a nice hotel when you split the cost between 2 people.
Cripple take: there was no lift so we had to walk up a staircase to get to the room.
Things to Do
Banana Bar
Every night at 7pm, this place shows a film which is projected onto multiples screens, transforming the bar into an open air cinema. Anything from animations such as Finding Nemo, to gritty dramas such as The Beach, and everything in between.
You can buy a joint behind the bar for 200 baht, a cocktail for 180 baht, or two cocktail buckets for 480 baht. The cocktails aren't very good, so I preferred just having a joint and a Fanta. I don't usually smoke, so just trying to learn how to inhale without coughing my lungs up was a challenge in itself.
Once the film finishes, the music resumes. Think 90's/00's hip hop and r&b, with some new songs thrown in too. It's a chilled place, so it's not the sort of place to go if you want to get on a dance floor. But if you just want to chill out and listen to some music like we did, then this is the place to be.
People were playing beer pong too, which we didn't join in with, but they all seemed to be getting very into it and having the time of their lives.
Cripple take: there are 2 very difficult staircases to get up to reach the bar. It took me a while, but I made it eventually!
Long Beach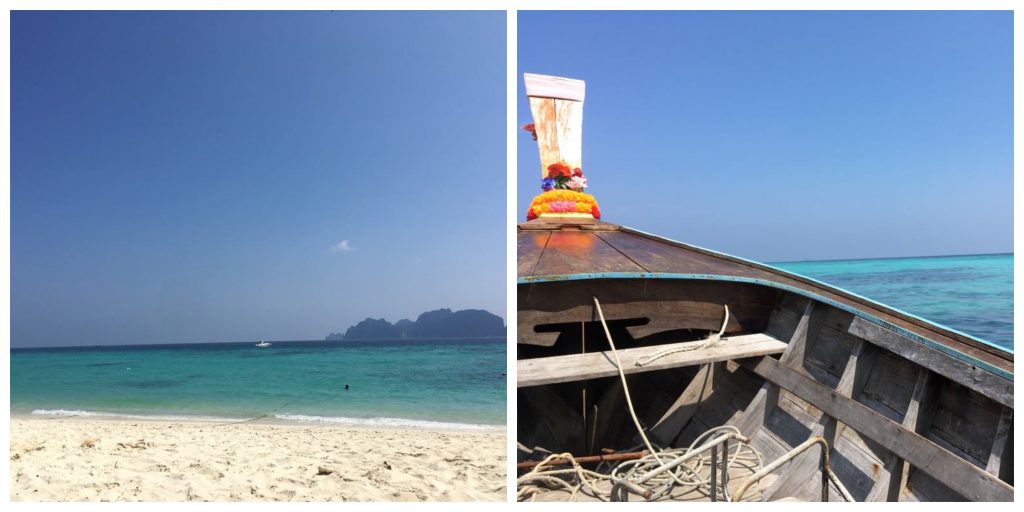 Get away from all the tourists and plastic strewn shores, and head on over to Long Beach. You can take a long boat for 100 baht per person. They may try to charge you more, but just be insistent that it's 100 and you'll soon be on your way.
Long Beach is a beautiful, secluded spot with very few tourists (when we went, during low season). You can go for a dip in the sea, with the knowledge that you're not gonna be surrounded by plastic floating about, and the water is so warm it feels like you're in the bath.
Cripple take: I found it very difficult to get onto the long boat. JJ had to lift me on and off it.
Reggae Bar

Despite the name, there's not much of a reggae vibe here at all. This is a place with absolutely no care for health & safety. The bar has a Muay Thai ring in the middle, and tourists are encouraged to get in the ring and have a go at fighting. There are no rules or restrictions though. Height, weight, ability – none of this matters. A guy who's never fought before vs a guy who definitely has. A huge girl vs a tiny girl (tiny girl won). A drunk bloke vs a sober bloke. It's as simple as getting in the ring, putting the boxing shorts and gloves on, and trying not to get too injured. Three 1 minute rounds, with both competitors getting a cocktail bucket in return for their participation, and the winner receives a very fancy plastic medal.
We walked past one of the nights and noticed an ambulance pulling up to the bar. When I say ambulance, don't picture flashing sirens and any sense of urgency. Motorised vehicles aren't permitted on the island, so the ambulance is actually just a golf buggy with a stretcher plonked on it. Anyway, the ambulance was picking up this English guy we'd met the day before. His ankle was broken during a fight. Not ideal at all.
Cripple take: this bar probably leaves some people more crippled than me by the time they're finished in the ring.
Only Bar
This place is high up on the rocks, so you have a nice beach view whilst there. We went there as we were told it was the place to go if you want a joint, but I'd recommend Banana Bar over this place if that's all you're going for, as they're 300 baht here and there's not much of an atmosphere.
It's a nice place though, and was perfect for one of the days where it absolutely pissed down with rain. There's a good selection of board games to play, a pool table which you can play for 30 baht, and JJ had a meal for 150 baht which he really enjoyed. I'm not sure how the drinks are as I just stuck to Fanta (wild, I know).
Places to eat
Cosmic Restaurant
This was our favourite place to eat on the island. Good food, good drinks, good prices.
Here are some of my recommendations from the menu:
Pizza (any topping) – 100 baht
Pasta & garlic bread – 100
Ravioli & garlic bread – 120 baht
Gnocchi & garlic bread – 120
Thai green curry (JJ's recommendation) – 90 baht
Irish breakfast – 140 baht (there's not actually anything Irish about it, it's basically a full English, but they reserve that title for the breakfast that includes chips instead of hash browns)
Lucky 13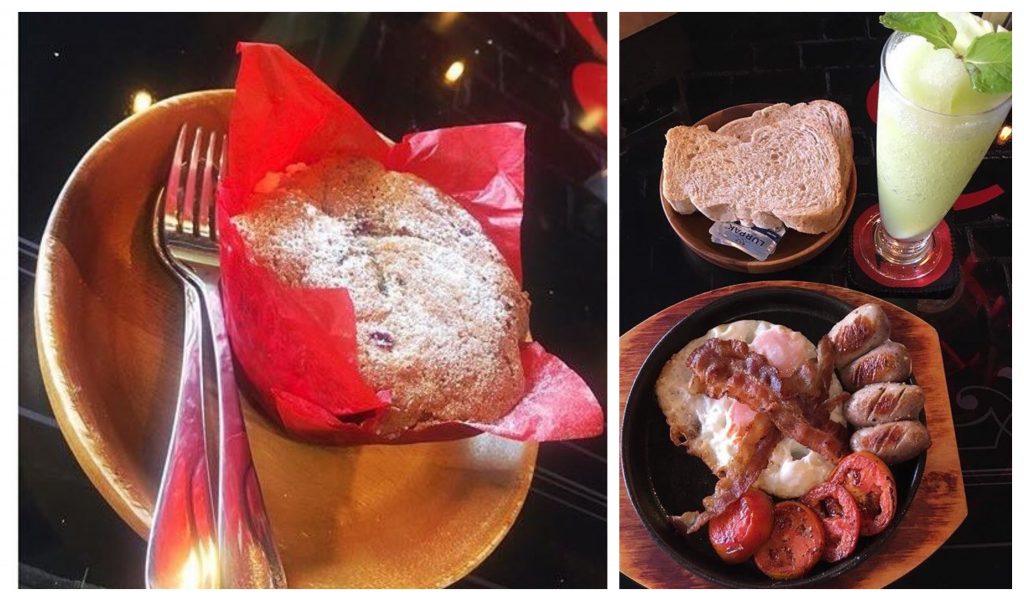 I went here for breakfast, which was a bit pricey (the food was 200 baht but I made the mistake of getting a really expensive juice), but really tasty. If you post a photo of your food on Instagram, tag the restaurant, and show a member of staff, you'll be rewarded with a free muffin.
7-Eleven
(JJ's recommendation) – this is basically Tesco Express, but you can get ready meals microwaved for you. Basic but convenient.
JJ loved it so much, he's come up with the '7-Eleven' diet, which you can read more about here.
Where to drink
Paddy's Shack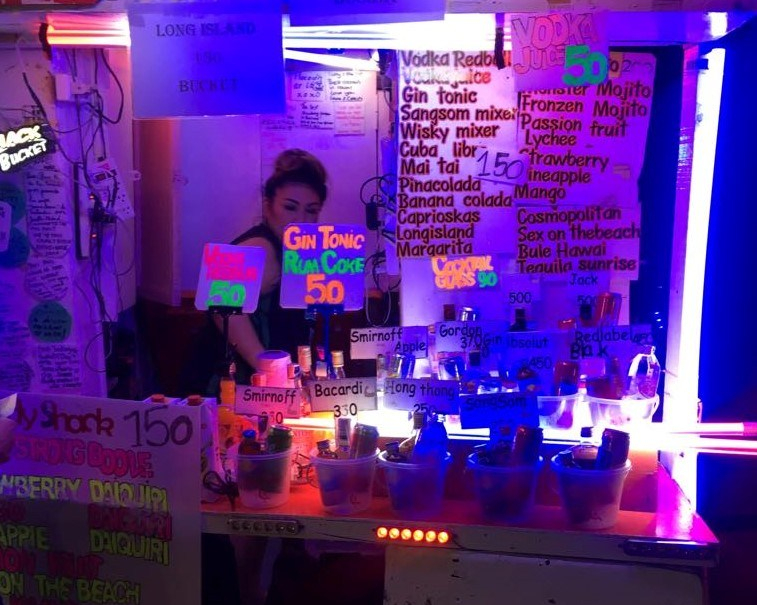 When looking for this place, don't look out for a big bar, it's just a little white cabin. Despite the Irish sounding name, Paddy is a lovely Thai lady who makes great cocktail buckets for 150 baht. Do not ask for it to be made strong. It will already be strong. She'll ask if you want medium-strong. You do! JJ made the mistake of asking for his bucket to be strong. It didn't taste nice and he ended up hugging the toilet bowl when we got in.
The only downside is that there's no seating area, as it's just on the street, but you can always sit on the beach and drink it. We did that before heading over to a bar we could sit in.
---
Do you like the sound of any of these places? Have you been to any of these places? Or do you have any other recommendations of places to go? Let me know!