Wat Chedi Luang Temple
We'd spent the first few days of our time in Chiang Mai chilling out, going for food, drinking in bars, and trying to explore the local area. I say trying because my inability to walk very far is making it very difficult, especially in the high temperatures. But that's another story.
So, on JJ's recommendation, we decided to soak in some of the culture. Chiang Mai is home to over 300 Buddhist temples, and you'll often see monks walking round the city in their traditional robes. There are also mini temples everywhere you go (a quick Google search just told me they're actually called Spirit houses, but I think mini temple describes them well), where people leave bottles of water (or juice, or yoghurts), I suppose as a symbolic offering to Buddha. I don't know a lot about them, so I can't say a lot about these, but I know they're important to people here. I'm gonna do some research on them though – you can't really walk 5 minutes down the road without seeing one, so I'd like to know exactly what they're all about.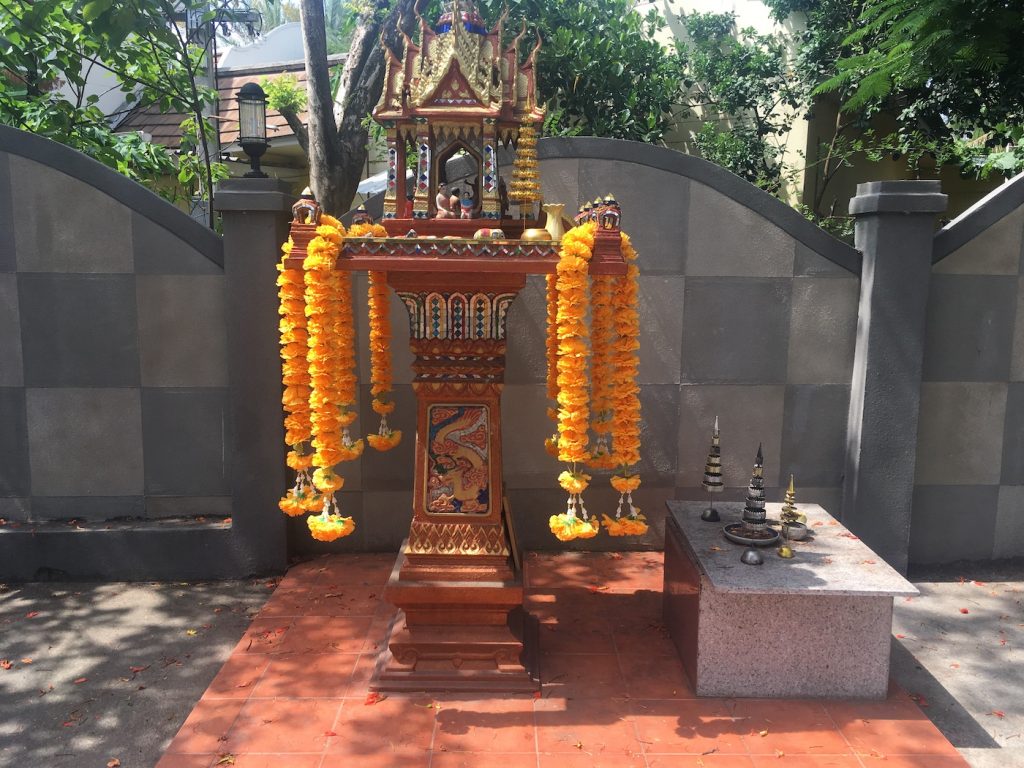 Now I'm gonna be completely honest here, and I'm sure some people will judge me for it. But I've never really been too interested in seeing the cultural parts of places I've been to. Usually I go away on holiday, lie by the pool all day, and drink cocktails in a local bar on the night. Bad, I know.
This is different though. It's a long stay in somewhere that's completely different to anywhere I've ever been before.
I've never really been interested in architecture, historic buildings, or anything to do with religion. I've never understood why people go to churches or cathedrals and say how beautiful they are. I've just never really been able to see the appeal.
However, I was actually interested in seeing the temple, perhaps because it's so different from the norm. I suppose being from England, I'm used to seeing churches around, so they don't seem like anything out of the ordinary. But I've never seen a Buddhist Temple before, so I was looking forward to seeing what it was like.
We got there and went through the 'foreigners' entrance. There's a foreign tourist charge of 40 baht each, which goes towards the general upkeep of the temple. As far as I know, locals can enter for free, as it's their usual place of worship. I did a quick google search in the morning, and found that the shoulders, legs, and midriff should be covered. I wore a t-shirt and some loose harem trousers, however if you don't have anything suitable to wear, don't worry – you can hire a shawl to cover up for a refundable deposit of 100 baht.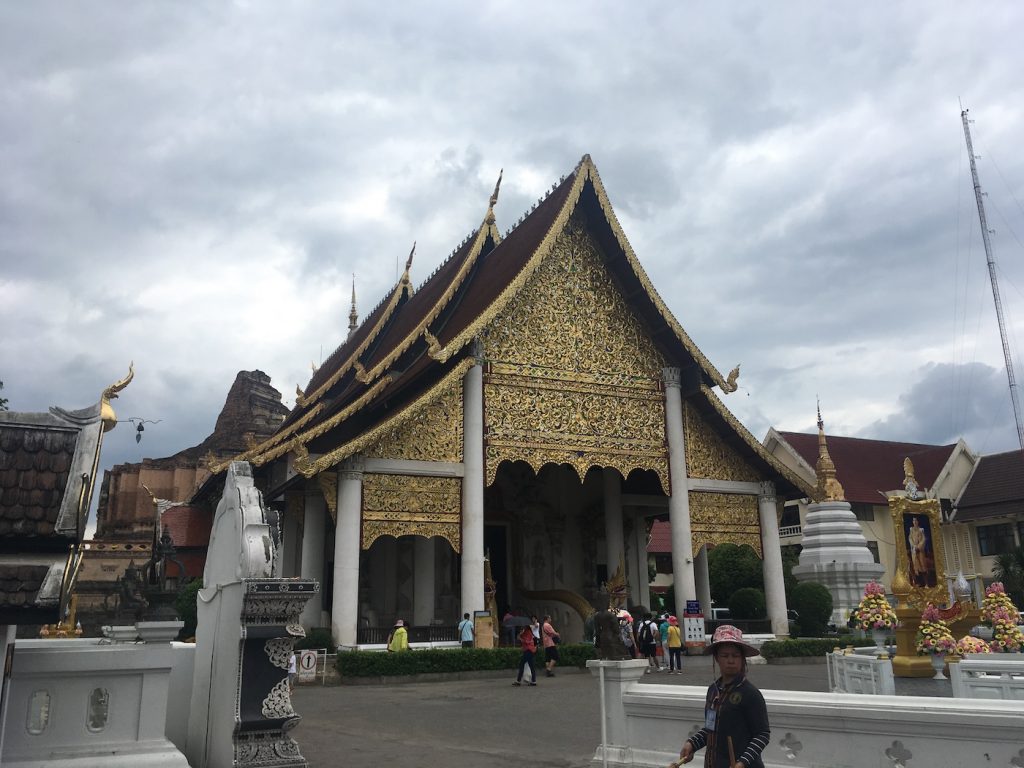 When thinking about going to the temple, I thought I'd sort of go, "oh this is nice", then go. But once I was there, I was taken in by the beauty of it, the grand scale of it all, and the peaceful, calming atmosphere. I took photos, but they don't really capture what you see when you're actually there – the building and everything inside was absolutely enormous. And just beautiful. It was really peaceful in there, and there was a monk sat nearby. We sat on the floor (making sure not to point our feet at Buddha, as the rules on the sign outside stated), and just enjoyed the peace. We watched many visitors come in to pray to Buddha, which I found interesting to see. I'm not religious at all, but for some reason I just found it really nice to watch.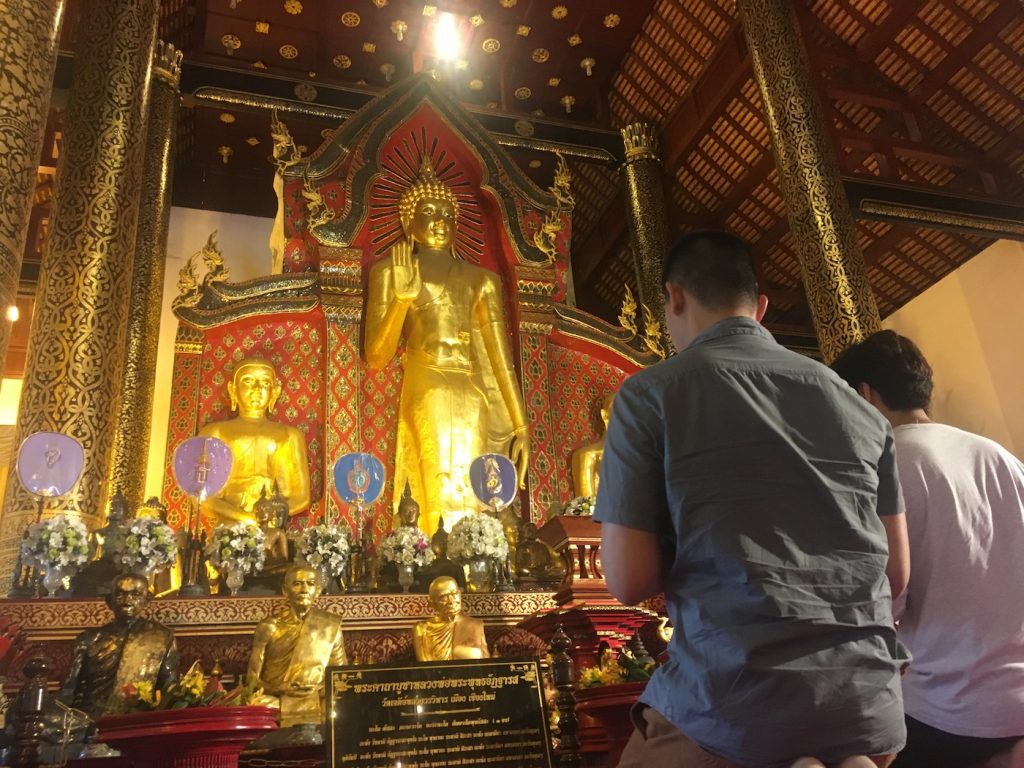 I had the opportunity to speak to a monk – so I asked him if he uses Instagram…
After about 20 minutes sat in there, we left the temple, and saw that there were a group of monks sat at some tables. They were there to have a chat with, as part of the Monkchat programme. This programme allows you to sit with the monks, and ask them any questions you have. It's a learning experience for both the visitors, who get to be educated on monk life, and also for the monks, who get to practice their English (assuming of course, that that's the language you speak).
I can't remember the name of the monk we spoke to, but he was in his late 20's and was a really friendly guy. His English was really impressive too. We asked him about his daily routine, which he explained consists of: meditation, going to the local village to receive food from the villagers, eating only breakfast and lunch (they're not allowed to eat more than those 2 meals a day, but can drink – water, smoothies, juice etc), and going to university 3 days a week.
He said he studied education, which I think meant teaching, so he can educate others. He explained that he didn't live at the temple, he lived at another one on the other side of the city. He was at this temple as part of his university programme – I think from what he said, the Monkchat is part of their English lessons. He said he'd been learning English for just over a year, which I was surprised by, because he spoke it so well. We asked how he decided to become a monk, and he explained that when he was in his last year of primary school, his parents sent him on summer camp for a month. One of the camp leaders was a monk, and his interest stemmed from there. He looked into it, his interest growing, and then became a monk when he was 20.
We also asked whether they could get married and have children – he explained that monks weren't allowed to touch women, but could give up their life as a monk whenever they wanted, if they wished to do so.
We asked whether they have mobile phones and computers, and the monk sat next to the one we were speaking to laughed and waved his very modern iPhone at us! We laughed and told him we were surprised, but he said it's a good source of education in modern day life. He did say yes when I asked him if he uses Instagram, though perhaps he was just humouring me. I mean, all the deep, philosophical questions I could have asked, and I asked if he used Instagram.
But yeah, that was really interesting. If I'd known the opportunity to chat with a monk was going to come up, I would have come up with more questions, but it was a spontaneous experience, and it was great.
There was also a temple on the grounds which I couldn't go in, as women aren't allowed. Due to the fact that women menstruate, it's seen as ruining the sanctity and cleanliness of it. I was jealous but JJ took a photo of it inside, so I sort of got to see the beauty of it!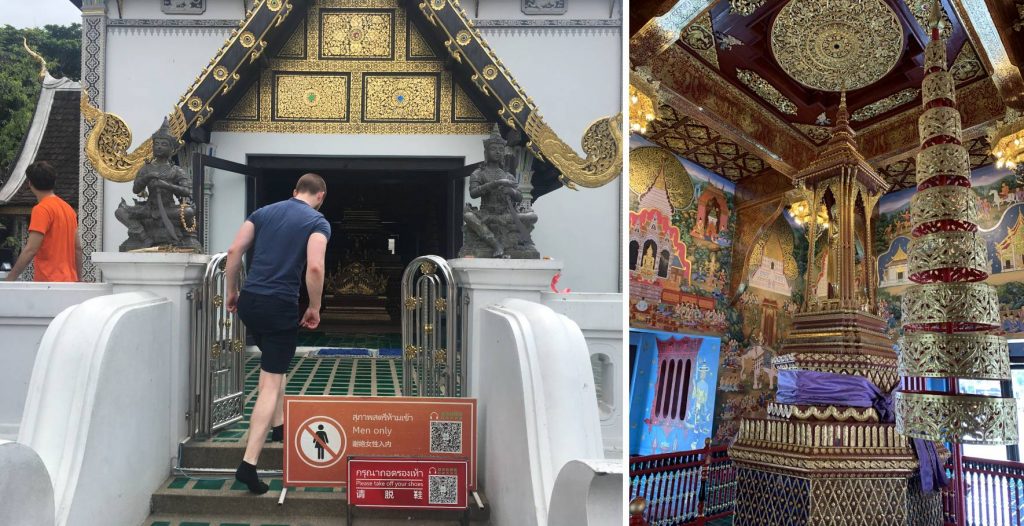 I'd definitely recommend a visit to a Buddhist Temple, and having a chat with a Monk is a really interesting experience. I'd like to go to another temple at some point, to see how they differ from each other, and to perhaps speak to another monk – maybe an older one – to see how their life experiences differ.